Date: Fri 26 Nov 2021
By Steve Whitney
Weekend`s Buildbase FA Trophy Second Round Preview
It`s the Second Round of the Buildbase FA Trophy this weekend, with thirteen clubs from the Pitching In Southern Football League involved.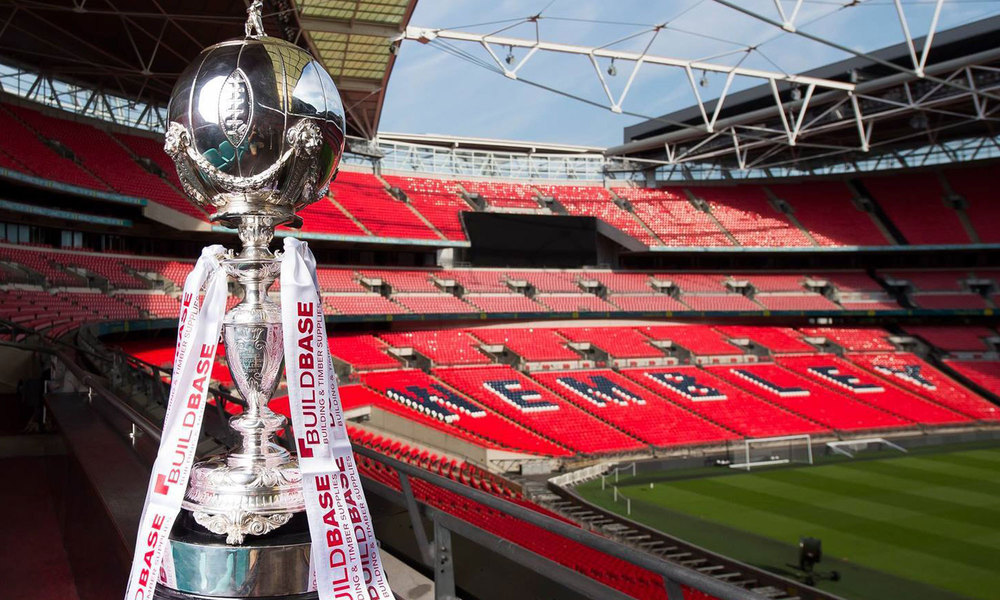 The are two all-Southern League ties, both with the away teams looking to cause an `upset`.
Premier Division Central club Needham Market welcome Division One Central side Welwyn Garden City to Bloomfields, wary of the fact that the visitors are managed by someone who knows what it`s like to triumph in the Trophy at Wembley!
Nick Ironton lifted the Trophy with Enfield in 1981/82 when they beat Altrincham 1-0.
The Citizens got to the Third Round last season – only their third campaign in the competition after winning promotion to Step 4 from the Spartan South Midlands League – before suffering a 5-1 defeat at home against National League side Aldershot Town.
The Marketmen got as far as this round last season before bowing out at National League North side Gloucester City.
Premier Division South club Wimborne Town will hope to put their poor league form aside when they take on Division One South side Larkhall Athletic at their excellent New Cuthbury ground.
The Magpies are rooted to the bottom of the table, with just one league win to date.
However, they have seen off Division One Central outfit Thame United and league rivals Weston-super-Mare – both away from home – in the Trophy.
Wimborne have tasted Wembley success in winning the FA Vase against Guiseley in 1991/92 but they have already surpassed their best run in the Trophy.
As have visiting Larkhall, who had never managed to get over the qualifying stages before.
The Larks, who sit 11th in the table, have beaten league rivals Slimbridge and Paulton Rovers and then Isthmian League South Central side Marlow to reach the Second Round.
Only two other Southern League clubs have home advantage on Saturday.
Division One South side Plymouth Parkway must overcome a two-division gap when they welcome Vanarama National League South outfit Hampton & Richmond Borough to Bolitho Park.
This is, of course, Parkway`s first season in the Trophy after coming up from the Toolstation Western League at the end of last season.
They reached the Vase quarter-finals in 2019/20 and currently sit slap bang in the middle of the table.
In the Trophy, Parkway have beaten league rivals Highworth Town and then caused two surprises by knocking out Premier Division South opposition in Merthyr Town and Salisbury – both on home soil.
Lee Hobbs` side are up against a Beavers outfit who have only gone past this stage of the Trophy before – in 2001/02 when they lost 4-1 at Edgar Street to Hereford United in the Fourth Round and in 2011/12 when they were beaten 4-1 at Northwich Victoria in round three.
Premier Division South Hartley Wintney are the only other team to have home support when they entertain Isthmian Premier Division side Folkestone Invicta .
The Row are currently fourth-from-bottom but had an encouraging draw with in-form Yate Town on Tuesday night.
In the Trophy, Anthony Millerick`s men have beaten Division One South sides Melksham Town and Willand Rovers but face a tough test against an Invicta outfit who are pushing for a play-off spot.
And Millerick could get some useful information on their visitors as the Kent side beat Hartley Wintney`s league rivals Hendon in the Third Qualifying Round before edging county rivals Faversham Town 2-1 in the last round.
This is only Hartley Wintney`s fifth season in the Trophy and they have already surpassed their previous best run when they were knocked out at the First Round stage by National League side Bromley in 2017/18
Folkestone have only previously reached the Third Round on two other occasions in 1998/99 and 2000/01.
Premier Division Central club Leiston have surprised many pundits so far this season.
The Suffolk side currently sit fifth in the table, although they suffered a 4-1 defeat at league leaders Coalville Town last weekend.
Darren Eadie and Chris Wigger`s men take on former Trophy winners Bishop`s Stortford, who are also in fifth place in the Isthmian Premier Division.
To reach this stage, Leiston beat league rivals Hitchin Town 3-1 and then Premier Division South side Harrow Borough 3-0, while the Blues saw off league rivals Lewes and Isthmian South Central outfit Chipstead in their two previous rounds.

Bishop's Stortford were the 1980/81 Trophy winners at the `old` Wembley when they beat Sutton United 1-0 and also reached the 2004/05 semi-finals when they were beaten 5-3 on aggregate by Hucknall Town, then in the Conference North, who eventually lost on penalties to Grays Athletic in the final at Villa Park.
Like league rivals Plymouth Parkway, AFC Totton face a two-division gap when they make the trip to Canvey Island to play National League South side Concord Rangers.
The Beachboys were Trophy runners-up in 2019/20 when they lost 1-0 to Harrogate Town at the `new` Wembley.
Concord are currently 11th in the table but were beaten 2-1 at Bath City last time out.
AFC Totton reached the Vase Final at Wembley in 2006/07 before losing 3-1 to Truro City but this is the furthest they have managed in the Trophy – losing 2-1 to Forest Green Rovers in the First Round in 2012/13 was their previous best.
The Stags are going well in the league though, despite slipping up last weekend at Parkway, and knocked out Premier Division South side Dorchester Town in the Third Qualifying Round before edging out league rivals Frome Town on penalties to reach this stage.
Quite rightly, Premier Division South club Tiverton Town earned themselves a reputation as being one of the most successful clubs outside the north east in the FA Vase.
They were the 1992/93 final losers to Bridlington Town and then 1997/98 winners against Tow Law Town and again the following season against Bedlington Terriers.
Tivvy also went through to the Fifth Round of the Trophy in 2000/01 before bowing out at Ladysmead to Worksop Town and got to the Third Round the following season before going down 3-1 at home to relative neighbours Yeovil Town.
It`s been twelve years though since the Yellows reached this stage of the competition though when they went out in a replay to Kettering Town on penalties.
The Devonians are 14th in the table at present and have knocked out league rivals Swindon Supermarine on penalties and then Isthmian South Central outfit Bracknell Town to reach this far.
Scott and Martyn Rogers` side make the trip to the Sussex coast to Priory Lane to take on a National League South side Eastbourne Borough who have never gone beyond the Third Round stage.
Premier Division Central club Stourbridge also have a tough test when they make the journey down the M1 to take on National League South side Hemel Hempstead Town at Vauxhall Road.
The Tudors started the season dreadfully but had picked up under Mark Jones, who was appointed in late September, and until their 3-2 defeat by leaders Dartford last Saturday, had been on a run of five games without defeat which lifted them to 17th in the table.
Hemel have never got past the Third Round stage before, whilst the Glassboys last got past this stage in 2015/16 before losing to Nantwich Town.
Stourbridge`s best performance in the Trophy came in the early days of the competition in 1970/71, when they lost 2-0 to Yeovil Town at The Huish in the quarter-final.
The Glassboys, under the joint management of Leon Broadhurst and Stuart Pierpoint, are currently 16th in the table and got past league rivals Redditch United and the Northern Premier League Division One Midlands outfit Carlton Town to make it to the Second Round.
Stourbridge`s league rivals Tamworth are a renowned cup side but face a very tricky test away at Stainton Park against Northern Premier League Premier Division Radcliffe FC.
The Lambs, currently ninth in the table, suffered a disappointing 2-0 home defeat to Stratford Town on Tuesday night and are not in the greatest form, having won just once in ten games in all competitions.
To reach this far, the Lambs saw off NPL Division One Midlands side Spalding United and NPL Division One West Colne – both away, although it took penalties to see off the Lancastrians.
Tamworth have been Trophy quarter-finalists on four occasions and reached the final in 2002/03 when they were surprisingly beaten 2-1 by Burscough at Villa Park (with Wembley being re-built at the time).
Tamworth haven`t gone past the First Round stage, however, since being quarter-finalists in 2013/14.
Radcliffe have only gone past this stage of the Trophy on two previous occasions – in 1995/96 and 1998/99.
They sit 13th in the table but have won eight of their last nine matches.
They saw off NPL Division One East side Frickley Athletic and Tamworth`s league rivals Nuneaton Borough to get to this stage of the competition.
Premier Division South club Truro City head to Berkshire to attempt to avoid becoming victims of an upset at Isthmian South Central side Binfield.
The Moles, in their first season in the competition after coming up from the Hellenic League at the end of last season, were at Wembley last term when they were beaten 3-2 by Warrington Rylands in the Vase Final.
They have already seen off Division One Central side North Leigh, Isthmian South East outfit Herne Bay and Division One South Cinderford Town to reach this far.
The White Tigers, who scratched at the Third Round stage last season due to the pandemic, won the 2006/07 Vase at Wembley against AFC Totton.
Sunday sees arguably one of the ties of the round as Premier Division South leaders Farnborough travel to Isthmian Premier Division side Kingstonian, who are currently seventh.
As Farnborough FC, Spencer Day`s team got past this stage last in 2014/15 when they bowed out in the Third Round.
When known as Farnborough Town, they were quarter-finalists in 1992/93 before losing to eventual finalists Witton Albion and again in 2002/03 when Tamworth beat them.
However, K`s have a terrific record in the Trophy, although in more recent years they have only reached this far once, in 2019/20.
They won it in 1999/2000 in a thriller in the final game at the `old` Wembley against Kettering Town.
Kingstonian won the match 3-2, fighting back from 2-1 down victory, thanks to two goals from Eddie Akuamoah and the winner from Amara Simba in front of 20,034.
They had also won it the previous season by beating Forest Green Rovers 1-0.
The Surrey outfit were also quarter-finalists in 1989/90.